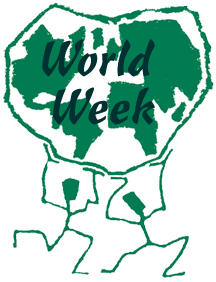 Thanks to advances in technology, World Week can now engage young people with much more impact by bringing them a compelling, educational DVD series. Each episode will feature the life and circumstances of a child living in a developing country who struggles with a problem such as lack of clean water or education. The compelling, documentary-style story will give viewers a personal connection with a human face behind the global problem. Then interviews with experts will provide more information, context, and insight about the problem itself. The DVD will also include a range of fun, meaningful activities for kids to help them gain firsthand experience with the issues and raise awareness of them in their communities.

The terrorist attacks of Sept. 11th awakened a need in Americans to look beyond our borders and try to understand how the world's problems relate to us. World Week can help school or community groups develop this important global perspective and become world citizens – replacing cynicism, hate and violence with understanding and compassionate action.


World Week encourages understanding and raises awareness of important global issues. It helps youth grasp problems affecting the poor and gives them ways to respond. World Week engenders a global perspective while counteracting the very normal feelings of discouragement and helplessness, that come from hearing alarming statistics such as those associated with child deaths, HIV/AIDS prevalence, or environmental degradation.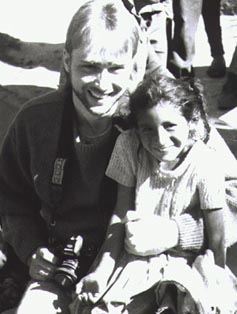 Christopher Redner, the creator of World Week and an award-winning producer and journalist, has the experience, abilities, and connections to deliver this DVD series. He has traveled widely through the developing world reporting on the work of numerous relief and development agencies. Those experiences have developed his knowledge of the issues and brought him into contact with the appropriate experts to address them.

Redner has produced television series for the ResearchChannel, including "Exploring Contextual Teaching and Learning" and "Information Technology Leaders." He has received 24 major awards for his work and has been nominated for two Emmy Awards.

Most important, he has a special way with children. Wherever he has traveled, he has overcome language barriers to connect with kids and capture their beauty for others to see. This connection is evident is his photographs of children from Latin America, Africa and Asia.

Redner wants to use his gifts to help children everywhere – especially to motivate kids to reach out to their disadvantaged counterparts overseas. He started World Week for this very reason in 1993. Today, he believes this program, with the new DVD format, can do even more to help young people change the world.

"It's all too easy to become apathetic or cynical, especially in our culture," says Redner. "If young people aren't equipped to make a difference in our world, what will balance the barrage of messages encouraging them to become self-centered and materialistic."

Impact

1) The DVD series audience will be encouraged to gain firsthand experience with the issues and raise awareness of them in their communities through a range of World Week activities. These activities take a fresh look at some of the toughest issues the world faces today.

2) The DVD series will encourage participants to explore the issues that impact children more deeply. Each DVD will include discussion starters, web sites and other resources for people motivated to learn more.

3) The DVD series will encourage specific acts of compassion and practical ways to act as global citizens and serve others. Each DVD will include information on how to work with charities to care for people suffering from disease, poverty, discrimination, or environmental devastation.

Distribution

DVDs will be distributed to schools and directly to the public. The series will be promoted through a web site, educational bulletin boards, targeted e-mail marketing and through contacts provided by World Week educational advisors. If funding permits, the series will be promoted through a television program.