What's So Great About Sponsoring a Child?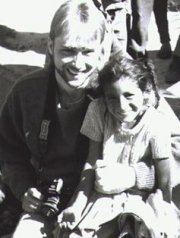 I love children. I've been fortunate to connect with thousands of wonderful children in dozens of countries during my travels.
Many of the children I've met were extremely poor and suffering from disease, hunger, abuse, war and environmental disasters. So it isn't a big surprise that I'm passionate about helping children in need.
Thankfully, there is a great way that almost anyone can change a child's life. It is easy to start, inexpensive and very effective. It is called child sponsorship.
I've visited child sponsorship projects, run by various charities around the world. I've seen their success firsthand. I met the children whose lives were changed and the parents whose fears turned to gratitude.
Here's why I believe that everyone who can sponsor a child should do it.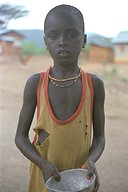 Child Sponsorship Helps Extremely Vulnerable Children
Children in sponsorship programs live in some of the world's poorest communities and often come from the families who need help most within those communities. They are extremely vulnerable to the effects of poverty, disease, hunger, human rights abuses, violence and environmental devastation. When the global economy is good, poor children usually benefit the least. When the global economy slows, poor children feel the impact most.
Sponsoring a Child is Personal
There's a reason it is called child sponsorship. You aren't just joining a cause or being charitable. You are choosing a specific child and making a commitment to help that child on an ongoing basis.
A Peruvian girl proudly shows me gifts and letters from her sponsor.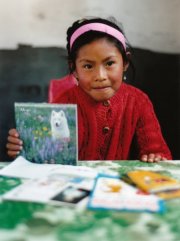 Child Sponsorship is Relational
You have an opportunity to build a relationship with your sponsored child. You can exchange letters and photos. You can pray for each other. You can even visit your child and her family.
The relationship between a sponsor and child is beneficial to both parties. Both can receive encouragement, hope and even love.
Many sponsored children are thrilled to learn that people from other countries and cultures have chosen to help them have healthy lives with real opportunities for growth. It amazes and inspires them that people care for children they haven't met. Many of these children see their sponsors as further proof that God cares about them.
I've met hundreds of children who cherish the letters and photos they received from their sponsors. I've talked with parents who are grateful for their sponsors and pray for them often.
I've also met sponsors whose understanding of the world began to change when they sponsored a child. They became more interested in how people live in other countries or in issues that impact the poor. They began to evaluate their priorities through a less self-focused lens. Some even made significant changes to their lifestyles and worldviews.
Many sponsors involve their families in child sponsorship. Their children pray for and write to the child their family sponsors. Some sponsors choose to sponsor children who are about the same ages as or have the same birthdays as their own children.
Sponsorship is Development - It Has a Lasting Impact
The best charities offering child sponsorship have been doing so for more than 50 years. They've learned how to go beyond a short-term handout and provide an ongoing hand up to the children they serve. Child sponsorship projects address the root causes of poverty, disease, hunger, environmental degradation and other pressing problems so children can develop and flourish. They do that through sustainable development – vital programs and strategic changes that local residents can maintain and build upon.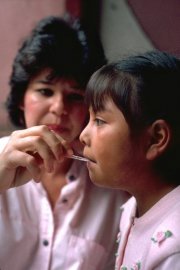 Child Sponsorship is Measurable
We all want to know that our giving makes a difference. Child sponsorship provides practical answers to the question, "What am I accomplishing?" You can measure your sponsored child's progress through report cards, letters and photos. Your sponsored child's family and community will work with development specialists to measure their progress toward goals that directly impact your child's health, well-being and opportunities for growth. You can even visit your sponsored child and talk with her family and members of her community to learn how their lives are improving.
Most children expand their dreams as they experience the new opportunities provided by sponsorship. Sponsored children have become teachers, doctors, nurses, IT programmers, government officials and other professionals. Many former-sponsored children sow the blessings they've reaped by becoming child sponsors themselves.
Sponsoring a Child is Engaging
It is too easy to start doing something good but lose the initiative over time. Life offers plenty of distractions, and there are numerous claims on our time and finances.
Child sponsorship is engaging, perhaps because it is personal, relational and its success is measurable. Many people, myself included, start by sponsoring one child and discover that with a few minor budget adjustments they can afford to sponsor several kids.

If you don't already sponsor a child, please start today. You can follow this link to sponsor a child through World Vision or through Compassion. They are excellent charities with good reputations for providing great care. I sponsor children through both organizations. I've seen their child sponsorship programs at work and I can recommend them wholeheartedly. If you'd like me to recommend a different charity that offers child sponsorship, please call me at 253.874.8400 to discuss your criteria for selecting a charity.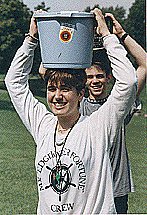 Some people reading this may be willing to sponsor a child but not financially able. You can still help children find sponsors by participating in World Week. You choose a World Week activity and people sponsor children on your behalf – similar to how people pledge donations on behalf of friends who participate in a walk-a-thon.
If you already sponsor a child – thank you! Please consider expanding your impact by encouraging your friends and family to sponsor children. You can do that by becoming a fan of "Sponsoring a Child" on Facebook. You're also welcome to forward this article to your friends and family or personalize it for use in a letter, e-mail or blog.
Sincerely,
Christopher Redner